On this day in history, William Henry McCarty, Jr. was born.  This name may not be familiar to you however.  Some of this man's more well-known names include William H. Bonney, Henry Antrim, and he was best known as Billy the Kid.  Who is Billy the Kid?  Where did he come from and what caused him to become one of the United States' most notorious criminals?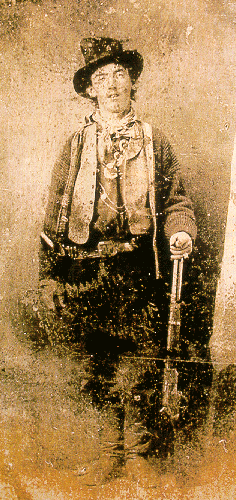 A man memorialized in American history as a man of danger, ruthlessness and elusiveness, everything about Billy the Kid's story speaks of the frontier Wild West.  The very date of Billy the Kid's birth is questionable in itself.  There are no records of his birth to date and The Kid varied his age when it suited him. Regardless, this is the day that has been most accepted as the date of his birth.
He was born to Catherine McCarty and the identity of his father is unknown.  It is unknown whether McCarty is his father's last name or his mother's maiden and where exactly the name Bonney fits in. It is even unknown as to where he was born. Best guesses point to New York, though there are also speculations about Indiana, Ireland, and England to name a few.  Basically, until 1870, Billy the Kid's life is a mystery that can only be guessed at.
His family moved all over the West starting in 1870 however and this can be traced in census records.  They lived in Kansas, Colorado and New Mexico.  After the death of his mother in 1874, The Kid began his criminal lifestyle as a means of providing for himself and got in with the wrong crowd. He befriended George Schaefer, a.k.a Sombrero Jack.  After being arrested for a crime actually committed by Sombrero Jack, Billy the Kid made his first allusive criminal act.  He escaped from the prison through a chimney and took off for Arizona.  He was young and on his own.
He befriended another thief, John Mackie, and was again arrested for his crimes.  Again he escaped and finally escalated into serious crime.  Constantly picked on for his small build and youth-like look, blacksmith Frank "Windy" Cahill enjoyed tormenting him.  In 1877, the torment ended when The Kid came back at him resulting in Cahill's shooting death.  Billy the Kid committed his first of 27 known murders that night.
He then joined the "Jesse Evans Gang" and became one of "The Boys", the most notorious gang of rustlers and killers in the southwest and they moved to Lincoln County where he got to know his cousin, George Coe and tried to settle down with a real job and get out of the life of crime.  Coe describes The kid as follows:
"He was the center of interest everywhere he went, and though heavily armed, he seemed as gentlemanly as college-bred youth. He quickly became acquainted with everyone, and because of his humorous and pleasing personality grew to be a community favorite." George's cousin Frank, would also remember, "He was about seventeen, 5ft 8in, weight 138lbs and stood straight as an Indian, fine-looking lad as ever I met. He was a lady's man and the Mexican girls were all crazy about him. He spoke their language well. He was a fine dancer, could go all their gaits and was one of them. He was a wonder, you would have been proud to know him."
On February 18, 1878, The Kid was working as a cattle guard when the Lincoln County War broke out.  The Kid was one of six men that gunned down Sheriff William Brady and Deputy George Hindman and he was also, part of a posse that killed Bill Morton, Frank Baker, and William McCloskey execution style. Marcelle Brothers says that "If he never participated or was killed during the war we would not have heard of Billy the Kid. He would've been just another saddle tramp rustler lost to history. Another reason [for his notoriety} was after the war he stuck around Lincoln County (instead of lying low for a while like some of the other Regulators), he also rustled his enemies cattle, and testified against them in court and because of that, the James Dolan side singled him out for special treatment. The newspapers built up the Kid's reputation as the TERRORIST OF NEW MEXICO and all rustling activities were pinned on him. The public who were once sympathetic towards the Kid were brainwashed into believing he was their main problem and a threat to society and needed to be taken out." The Kid was not a notably wanted man and couldn't settle down and live an honest life anymore.  He returned to his life of crime.
The Kid would go on to kill many more men and make a few more allusive escapes.  After another arrest, he was convicted and sentenced to hang in 1881, but made another miraculous jailhouse escape to avoid his execution. Later that year however, The Kid was gunned down by Sheriff Pat Garrett, the details of which are skeptical at best. Regardless, he was killed on July 14, 1881 near Fort Sumner, New Mexico and he was buried at Old Fort Sumner Cemetery with two of his friends.  His gravestone has been stolen twice since 1940, and is now protected by an iron cage around his grave.
For more information on Billy the Kid, see the following biography site:
http://www.aboutbillythekid.com/Biography.htm
Share and Enjoy